It started with this: "Anybody travelling somewhere in the near future, not for too long? Wanna try @OlafScooter?"
It was two weeks before I was supposed to umpire on a regatta in Austria and I was really curious. The founder was a colleague from university and I felt like I want to try a new challenge.
"Yes, I'll try it!" was my response and suddenly, I got the scooter in the afternoon, a day before my departure.
While their challenge was to make an efficient and attractive suitcase/trolley/scooter, mine was to pack my sailing gear in a yet smaller suitcase than the last time. 🙂
"I'm going to make it work, whatever it takes!", is a bold statement if your shoe size is 46 (US 12) and you need at least two pairs.
Packing
I got this: Olaf Scooter BUSINESS model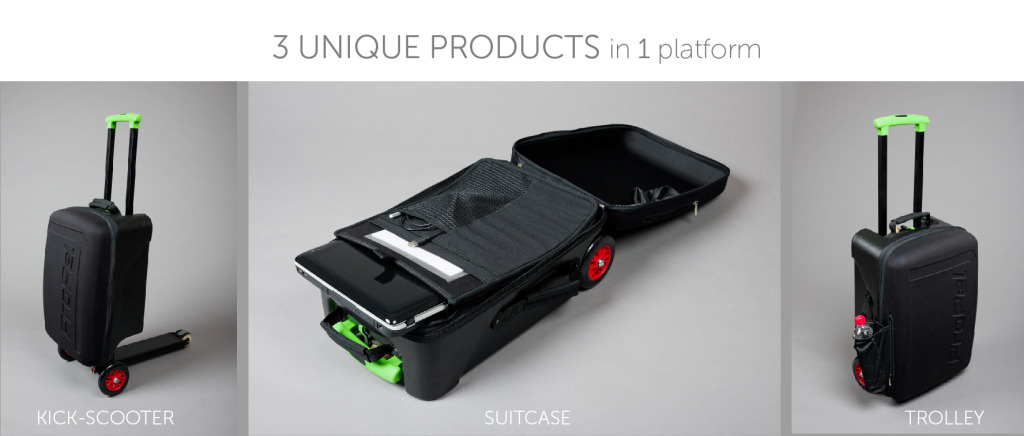 "Wow, interesting, great!" was followed immediately by: "Shit, NO WAY I'm going to pack my stuff in here!" But somehow I managed. I've packed:
heavy weather sailing gear,
two fleeces,
a jacket,
thermal underwear,
underwear,
socks,
waterproof breathing socks,
sailing deck shoes,
flip-flops,
a cap,
a hat,
a bandanna,
pair of waterproof shorts,
two polo shirts,
one T-shirt,
two long-sleeved shirts,
a laptop,
an iPod,
a Kindle,
sun glasses,
all the cables/chargers necessary for the gadgets,
a folder of different accessories for an umpire (two whistles, wet-notes, lanyards, pencils, paper, boat-models, …)
It looks like the list would be longer than the suitcase, if printed out. 🙂
The usual stuff, except for the boots and my inflatable floatation device. But I'll just have to do without them this time.
Riding the scooter
I've hit the parking in front of the airport main building, took the suitcase out of the cars trunk and released the pedal/wheels. There was still light, the tarmac was rough, but the ride was smooth. Weeeee, funnnn!
I built up some serious speed until… well, a bump in the floor reminded me that the steering mechanism is set to "delicate". Now, picture a wobbly, smiling passenger running down the parking lot on a scooter, and grab some popcorn!
First rule: don't over-do it the first time! Keep your calm. And your posture. Smile! In the meantime, I reached the departure terminal in a matter of minutes.
I'm not sure if the steering mechanism preference "delicate/forgiving" is just a prototype thing or it will also be available with the end product.
Check-in and security
It went smoothly, not even a blink from the staff. I had fun, though, when they put the suitcase on the belt and tried to push it slightly towards me… and it accelerated! The wheels! We forgot about the wheels!
Cought it the last second. Whew! I smiled, the security lady looked at me apologetically and I continued. Every day you see something new.
Boarding
Again, no questions asked. And the suitcase fit into the above-head compartment without any extra effort. Even if it had the contents with approximately the supernova density; don't ask me about the weight, I usually make it seem easy to handle my luggage. 🙂
Hotel
Once in a hotel with all corridors paved with rugs I was moving silently. 🙂 But again, when I put Olaf on the table, it almost rolled off. Well, the couch it is for you, mister!
Return
I got some more stuff during my stay in Austria, which, well, I had to fit into the suitcase. And I did.
And the airport in Wien is much bigger than the one near Ljubljana. Luckily, I could get some recreation without sweating!
Smooth ride, since I was already familiar with the steering quirks that you can master in matter of minutes.
Security did put Olaf through scanning machine two times and the second time they turned the suitcase for 90 degrees to ge a better side-view, I guess. But no fuss with it.
Reached the gate easily. Just a click with the foot on the locking mechanism and the pedal was tucked away.
Back on the ground
I didn't waste time since I had no other luggage, reached the outdoors immediately. Well, one last try with Olaf!
It seemed easy until now, since there are no people on my videos. Let's try full blown airport situation this time.
Slick, don't you think?
Final word
It was fun, but let's see the pros and cons. I've already spoken with the founder of Olaf Scooter and he assured me that most of the quirks are already being taken care of.
Good things
quick way of covering large airport buildings
attractive design, easy to use pedal-folding mechanism
no questions asked by the airport staff, since the suitcase fits the on-board luggage dimensions
Things that need attention
put somewhere a brake for the wheels or add rubber on the side, to prevent Olaf from rolling of the table
I'm quite tall and would prefer a bit longer handle, since the suitcase tried to overtake me a couple of times when I slowed down
once the handle is fully extended, try to lock it in that position, not a couple of centimeters lower
In the end, I wish the project all the best and look forward for the situation, where I could use such suitcase on regular basis. 🙂