Progress Time is an Pebble analog-style classic watchface with a twist. It has a clear, free of distractions display and beautiful graphics. It supports Original Pebble, PebbleTime and Pebble Round as well!
A flick of your wrist will display current weather conditions and all the details (date, time, BT state, battery level) for a short while.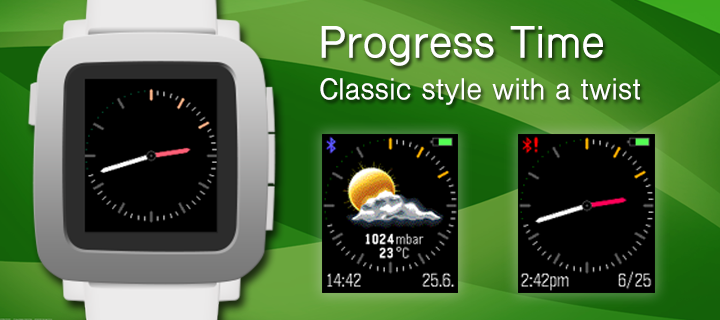 Features
In case of low battery level or bluetooth disconnection it vibrates and displays a warning icon permanently. With low battery level, seconds hand is automatically disabled.
Weather data is fetched regularly, with shorter retry period if anything goes wrong. During the night the period is longer to conserve battery life.
Follow the development in a Pebble developer forum thread.
Customization
disable wrist flick
continuously display battery level and bluetooth connection status
continuously display current time and date
use bold fonts
display day of week
date format
hour hand color
seconds hand display
details display/lightup timeout
enable weather information display
disable GPS usage, enter fixed city name
configure weather update period
temperature units
Help the development
Developing for Pebble is fun, but it takes time. I'm happy seeing how many of you are enjoying this watchface. Spread the word!
If you still want to contribute something, I'd be more than happy to spend it on a coffee in the morning and get things done sooner. 🙂